Urine as a sample type for HPV detection and cervical cancer screening - Highlights from Eurogin 2022
You are here

In April 2022, our team was present with a booth at Eurogin in Düsseldorf, a leading conference focusing on Human Papillomavirus (HPV). It was a great place to share our latest work and stay up to date in the field of cervical cancer and other HPV-related diseases.
We have three main takeaways from the conference this year; these topics were discussed at various sessions as well as our booth.
1. Self-sampling methods such as urine have shown to increase participation by women in cervical cancer screening programs
Urine as a sampling method offers a way to increase accessibility and especially engage unreached populations. Urine is easy to collect and non-invasive, making it an attractive, accepted and preferred sample type by many women, which is critical for cervical cancer eradication.
2. First-void urine is a promising alternative to physician collected or Pap smears samples for HPV testing and has shown similar clinical accuracy
HPV testing on self-collected samples (urine and vaginal) showed similar sensitivity to physician-collected samples, highlighting the potential of non-invasive sample types.
3. Molecular-based triage on hrHPV-positive women to detect cervical cancer
Since not all HPV infections lead to cervical cancer, it is important to identify and followup only those HPV-positive women with clinically relevant cervical cancer to avoid overreferral, and overtreatment. Molecular-based triage methods for HPV-positive women that use self-collected samples, such as urine, allow the detection of HPV and other molecular biomarkers to be determined from the same sample, thus avoiding repeated sample collection.
In addition to our booth, we had two presentations and two posters this year at Eurogin, which focused on urine as a sample type in cervical cancer screening and follow-up:
Presentations:
First-void urine: a reliable approach for cervical cancer screening (Jhana Hendrickx, Sr. Scientific & Clinical Affairs Specialist)
The presentation summarized the results of the clinical trials, conducted in more than 2500 women referred to colposcopy, that compared the performance of Colli-Pee® collected firstvoid urine to other self-sampling devices for HPV detection.
Explorative study on device architectures for defined ranges of first-void urine collection (Koen Beyers, CTO & Co-Founder)
The presentation highlighted the research and development philosophy behind the design and physics of Colli-Pee® volume variants, our first-void urine sampling device.
Posters:
Home-based self-sampling of first-void urine for hrHPV testing in cervical cancer screening: usability feedback from a Belgian colposcopy referral population (Danielle Pasmans, Independent Marketing Advisor)
The results of this study show that most women would prefer a urine self-sample at home over a physician-taken PAP smear for their next cervical cancer screening. Moreover, Colli-Pee® UCM® FV-5010 was considered an easy-to-use and well-accepted self-sampling device for cervical cancer screening in a Belgian colposcopy referral population.
First-void urine and vaginal self-sampling in cervical cancer screening: feedback from a colposcopy referral population (Vanessa Vankerckhoven, CEO & Co-Founder)
The results show that most women enrolled in several European triage populations preferred first-void urine over a vaginal self-sample. In addition, women found that first-void urine was easier-to-use and were confident that samples were taken correctly.
Missed us there? Check out our posters here
*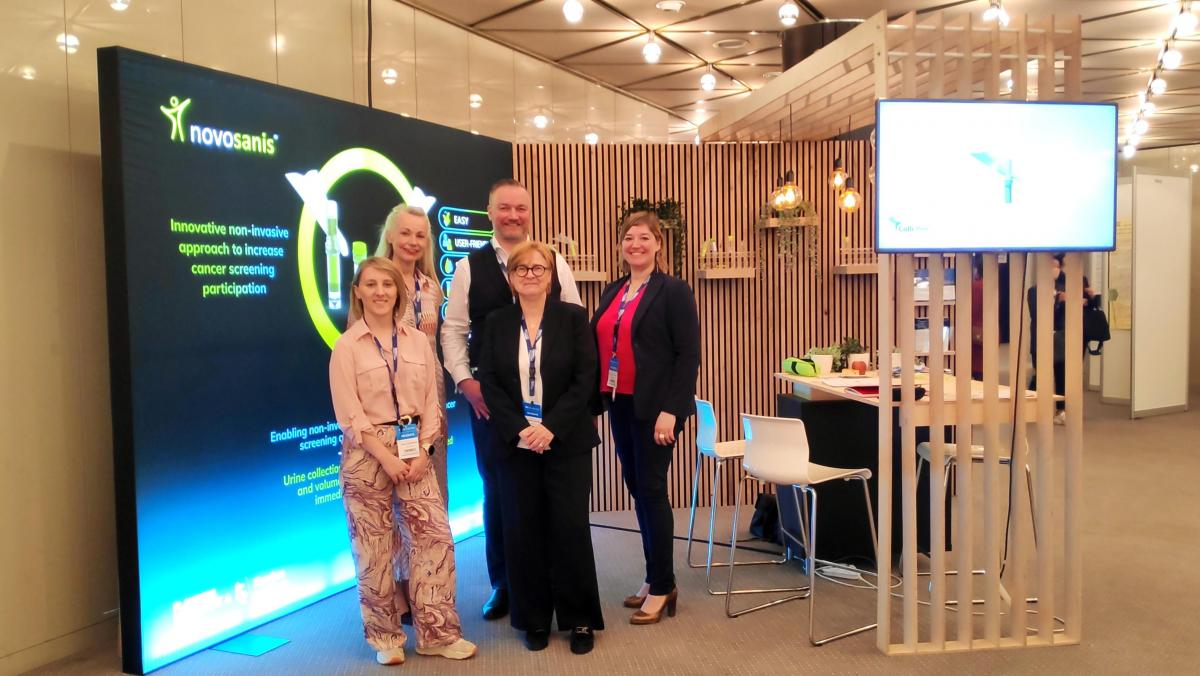 Overall, Eurogin 2022 was a great success. It was nice to be back on the road and attend the conference in-person again. The event was another opportunity to further share the potential of urine in the world of HPV testing with industry experts and leading healthcare professionals. Our booth was well-visited, and it was a productive session. We come home with exciting updates in the field.