Highlights of our experience at AACC 2022
You are here
Highlights of our experience at AACC 2022 Our teams from DNA Genotek, Novosanis, and OraSure came together at AACC 2022, where we had the opportunity to meet industry experts, leading healthcare professionals, as well as our customers. We also hosted a scientific workshop at the conference.
Image: AACC 2022 Team in front of booth
Our booth at AACC 2022
For us, the conference highlighted the potential of non-invasive sampling. Our booth focused on sharing our solutions using saliva and urine for infectious disease testing and research. Saliva has been shown to be a successful sample type for SARS-CoV-2 testing, while first-void urine can be used for the detection of Human Papilloma Virus (HPV) and other sexually transmitted infectious (STIs). Both sample types are also interesting as they offer easy, painless, at-home collection, and these aspects were the focus of our conversations at the booth.
Image: AACC 2022 Booth
In case you did not have a chance to visit our booth and would like more information, you can find some here:
Our saliva collection devices offer an all-in-one solution for the collection, stabilization, storage and transportation of saliva samples for the detection of viral and bacterial targets, including SARS-CoV-2 RNA
Our urine collection device allows for standardized and volumetric collection of urine and allows immediate mixing with preservative, enabling detection of STIs as well as HPV in first-void urine
Our workshop at AACC 2022
This year at AACC, we hosted a scientific workshop "Applying lessons from the pandemic for non-invasive sample collection for infectious diseases: From saliva collection for COVID testing to urine self-sampling for HPV testing". The workshop was moderated by Mara G. Aspinall (MBA), and speakers Frank Middleton (PhD), and Jennifer S. Smith (PhD, MPH).
Mara Aspinall and Dr. Middleton both delivered in-person presentations, while Dr. Smith joined our session virtually. The focus of the workshop was to illustrate how non-traditional sample types, such as saliva and urine, can be used in diagnostic testing. The presentation covered data on the benefits of utilizing saliva as a sample type for SARS-CoV-2 testing during a pandemic in addition to discussing advances in using first-void urine as a non-invasive, self-sampling method for HPV and STI detection.
These topics and conversations led to an interesting and interactive session with the audience asking several questions that created an engaging panel discussion.
Here are some of the key highlights and takeaways from the workshop:
During her presentation, Mara highlighted the contributing factors of the COVID-19 pandemic that led to the critical need for non-invasive (at-home) self-collection of samples for diagnostic testing. She started the presentation by outlining the history and evolution of self-collection techniques, and the power that comes with the method. She then focused on the importance of collecting a good sample and how saliva as a sample type can aid testing challenges.
"The future of diagnosis must be continuous monitoring and the only way to do this is self collection."

"You've got nothing if you don't have a great sample. It's all about the sample. And saliva works!"

"Saliva is the sample that really helps with testing challenges."
During his presentation, Dr. Middleton focused on how saliva collection (in both adults and children) could enable SARS-Cov-2 testing, providing a non-invasive, self-collection method for testing and variant monitoring. He highlighted how he has been working on saliva as a means of obtaining non-invasive biomarkers for several diseases, even prior to the pandemic, and it was this knowledge that prepared his team to immediately begin work on COVID-19 when it was necessary.
"The advent of non-invasive tests provide us an incredible opportunity to mitigate spread. Use of a pooled saliva approach to COVID testing enables a faster and lower cost solution without loss of sensitivity."

"Looking ahead: saliva holds potential for monitoring antibody levels as well as evaluation of host responses that may impact severity of infection and risk for reinfection."
During her presentation, Dr. Smith explored the advances in clinical data supporting first-void urine as a non-invasive, (at-home) self-collection sampling method for detection of HPV. She highlighted why urine is such an exciting sample type for high-risk HPV detection and its potential for cervical cancer screening, including the simple, non-invasive nature of urine sampling, as well as its potential to be used in remote settings. She also discussed the importance of using appropriate preservation to protect urine and analytes in the sample from degradation.
"It's critical to store urine in the correct stabilization media"

"First void urine self-collection is a viable and preferred sample type for high-risk HPV screening."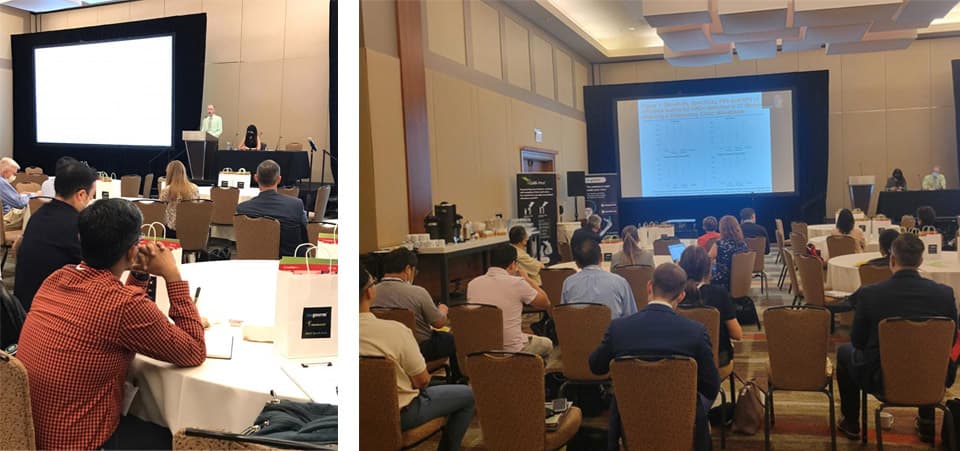 Images: Scientific Workshop – AACC 2022
Want to know more?
Watch the recorded video of the workshop here
Our takeaways
It was nice to be back on the road and further share the potential of non-invasive sampling with a wider audience at AACC. We came home with key insights from our customers, and we look forward to continuing these discussions with everyone we met. We thank our teams, and all those that visited us at the conference for their support and interest!