Winner announcement of EACR & Novosanis Research Grant: Cancer Biomarker Detection in Urine
You are here

We are pleased to announce that Dr Barbara Guinn from University of Hull UK is the winner of the EACR & Novosanis Grant for Cancer Biomarker Detection in Urine. 
The grant awards the most impactful proposal in cancer related research using urine as a sample type, which has shown to be an emerging non-invasive liquid biopsy. For urine sample collection, the Colli-Pee® device will be provided by Novosanis.
The grant was open to EACR members and we were delighted to receive many high-quality applications. Dr Barbara Guinn's winning project will be on "Characterisation of a urine biomarker for the earlier detection of endometriosis".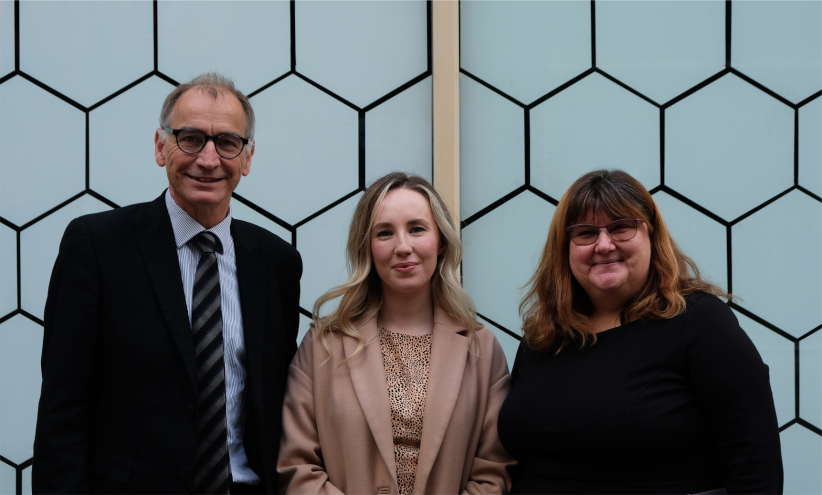 EACR & Novosanis Grant winner Dr. Barbara Guinn (right) together with Mr Kevin Philips, Consultant Gynecologist at the NHS Hull University Teaching Hospital and Ms Leah Cooksey, PhD student in her final year working on this project in Dr Guinn's lab.
Endometriosis is similar to cancer in many ways, and those who suffer with endometriosis have a greater risk of some malignancies, particularly ovarian cancer. Endometriosis is considered invasive, has the ability to migrate, increase proliferation, impact organ function and causes chronic inflammation. Furthermore, research has shown that endometriosis and cancer have many dysregulated proteins and genetic damage which contribute to disease in common.
About the winning project
Barbara Guinn explains: "A urine test for endometriosis would allow women who have some symptoms to be screened and identify those patients who need investigative surgery. This would decrease the time to diagnosis, the efficacy of treatment and improve patient quality of life, decreasing economic burden. Numerous studies have endeavoured to identify urine biomarkers for endometriosis, however these have failed to reach clinical significance. Often these studies have lacked an appropriate standard of methodological quality, partially due to their collection methods, therefore having access to Colli-Pee® urine collection devices will allow us to eliminate this variability and ensure the quality and reproducibility of our data required to get a urine biomarker into clinical practise. Our study will adhere to the World Endometriosis Research Foundation (WERF) guidelines for endometriosis research and implement a process of standardised collection, processing, and storage of patient samples to reduce variability between clinical trials ."
About Barbara Guinn
Barbara Guinn is a Reader in Biomedical Sciences at the University of Hull. She has a BSc Genetics from University of Aberystwyth (1991) and a PhD from the University of Wales College of Medicine Cardiff (1995). She then worked at the University of Toronto as a postdoctoral fellow and started her own research group at King's College London in 1999. She is interested in identifying antigens as targets for immunotherapy (where the immune system is stimulated to kill diseased cells) but her group has also realized that disease-specific proteins can provide insights into the biology of disease and biomarkers for disease stage and survival.
Currently her group is looking for antigenic targets for the targeted therapy of adult B-cell acute lymphocytic leukemia, colon, and ovarian cancer, as well as endometriosis and incidental lung nodules. She has shown that antigens can act as biomarkers for disease (diagnosis, survival, and subtype) as well as providing new insights into the biology underlying these difficult to treat diseases.