Colli-Pee by Novosanis wins IWT Innovation Award
You are here

Colli-PeeTM, a first void urine collection device, developed by Novosanis has received the IWT Innovation Award in the category "major social relevance". Novosanis is very honored with this prize which was granted yesterday by The Agency for Innovation by Science and Technology.
During the ceremony on March 26 at the Vaudeville Theater in Brussels, the award was handed by Professor Paul Lagasse, honorary chairman of the board of IWT, and Veerle Lories, Managing Director of IWT. "As Novosanis is a young spin-off company from the University of Antwerp, we were very honored to be nominated for an innovation award in the category major social relevance. Winning this award makes us even more proud. It's a recognition for the entire team, both at Novosanis, Voxdale and the University of Antwerp. The support of IWT has allowed us to perform more profound research, build several prototypes, and execute usability tests in volunteers which ultimately led to obtaining the CE label. A number of clinical trials on detection of sexually transmitted infections (STI) in urine are currently ongoing throughout Europe and even in developing countries." says Vanessa Vankerckhoven, CEO Novosanis.
Professor Paul Lagasse emphasized that the multidisciplinary approach, the fact that Novosanis as a young spin-off company is already collaborating at an international level and that the company was able to CE label its Colli-PeeTM device in the process, were the major contributing factors for granting the award to Novosanis. 
Novosanis has been developing this device for a couple of years now. The development started initially at the University of Antwerp by combining the expertise available at the Institute for Vaccines and Infectious Diseases and at the Department of Product Development. "Colli-PeeTM is a very user friendly device that can be used by both men and women. It has a smart architecture that allows capturing only the first 20ml of the urine current. Through the use of non-invasive sampling, more people could be reached for STI testing which will allow initiation of treatment earlier. This IWT Innovation Award acknowledges our efforts in improving health care for both patients and health care workers." says Koen Beyers, CTO of Novosanis.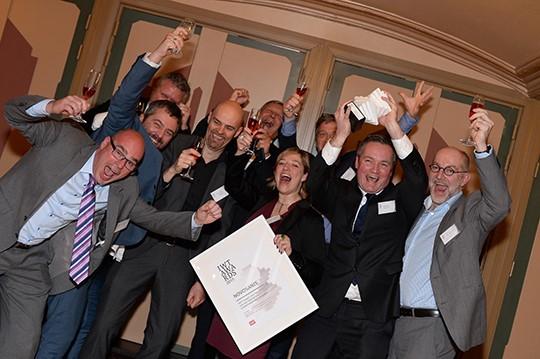 #Colli-Pee wint #iwt #innovatieaward in categorie maatschappelijke relevantie! Bedankt @iwt voor deze hele mooie erkenning!

— Novosanis (@Novosanis) March 26, 2015
About Novosanis
Novosanis designs and develops medical devices for a variety of applications, ranging from injection appliances to in vitro diagnostic accessories. Novosanis has two devices in its portfolio: VAX-ID, suited for injections of e.g. vaccines in the dermal layer of the skin and Colli-Pee, suited for collection of first void urine which allows detection of e.g. sexually transmitted infections and cancer biomarkers.
Novosanis aims to improve health and patient care and to offer a better quality of life through sustainable innovative technologies. Novosanis is a spin-off company from the University of Antwerp and was founded March 2013. 
About IWT Awards
"Every two year, in order to give the Flemish innovative companies the attention they deserve, the IWT organizes the presentation of the IWT Innovation Awards. These awards are given to SMEs that have successfully completed an IWT business project during the last five years." (www.IWT.be)