Colli-Pee with UCM preservative CE certified
You are here
Press Release
Novosanis' medical device Colli-Pee® prefilled with urine preservative now CE-certified
Wijnegem, Belgium, March 30, 2018: Novosanis, an innovative developer and producer of medical devices, announced today that Colli-Pee, a self-sampling device suited for standardized and volumetric collection of first-void urine is now CE-certified for use with Novosanis' proprietary UCM preservative.
First-void urine allows for improved, non-invasive detection of infectious diseases as well as cancers, even in early stages. The addition of the preservative allows for substantial longer preservation of urine and its valuable content like DNA, for diagnostic purposes.
The newest variant of the device permits easy storage and mixing of the preservative with urine, offering several benefits like preventing DNA from degradation and improving disease detection. A large number of trials have validated the use of our UCM preservative in maintaining HPV DNA in first-void urine. Additionally, the liquid preservative guarantees long-term storage of samples at room temperature.
"We adapted Colli-Pee's collector tube and cap design to make it suitable for applications that require a prefilled preservative. This latest design offers numerous transport and handling options, including flight, ship and cargo at various storage temperatures," says Koen Beyers, CTO and co-founder of Novosanis.
Vanessa Vankerckhoven, CEO and co-founder of Novosanis further explains the significance of this approval: "CE-certification of Colli-Pee containing UCM preservative is a major milestone for our company. It opens new opportunities and allows further expansion of our customer base. The benefits of the UCM preservative also have impact on the robustness and sensitivity of diagnostic tests. We are extremely proud of the entire team and are excited to see our device reach more parts of the world and provide more comfort and ease to patients." 
About Novosanis
Novosanis is an innovative developer and producer of medical devices adding value to the accuracy of diagnostics tests as well as drug delivery in the field of prevention, detection and treatment of infectious diseases and oncology.
Novosanis is a Belgian privately held company endorsed on multiple occasions nationally and internationally for its solutions and is ISO13485 certified.
Novosanis prospers in user-friendly and clever medical devices meeting all regulatory and quality requirements for self-sampling and drug delivery solutions that improve accuracy and standardization while making handling easier, more consistent and more comfortable for the user.
The company has two device platforms in portfolio:
VAX-ID™ is a patented and proven platform of injection devices suited for accurate drug delivery of e.g. therapeutic, prophylactic and allergy vaccines in the dermal layer of the skin and
Colli-Pee™ is a patented sampling device suited for standardized and volumetric collection of first-void urine (first 20ml of the urine flow) allowing improved detection of infectious diseases as well as early stage cancer. Colli-Pee™ is in a commercial stage. It is CE-marked and FDA listed.
For more information, please visit:  www.novosanis.com
Trademarks
Novosanis, Colli-Pee, VAX-ID are registered trademarks of Novosanis NV and/or its affiliates.
For more information, please contact:
Vanessa Vankerckhoven, CEO Novosanis
+32 486761885
Koen Beyers, CTO Novosanis
+32477933070
press@novosanis.com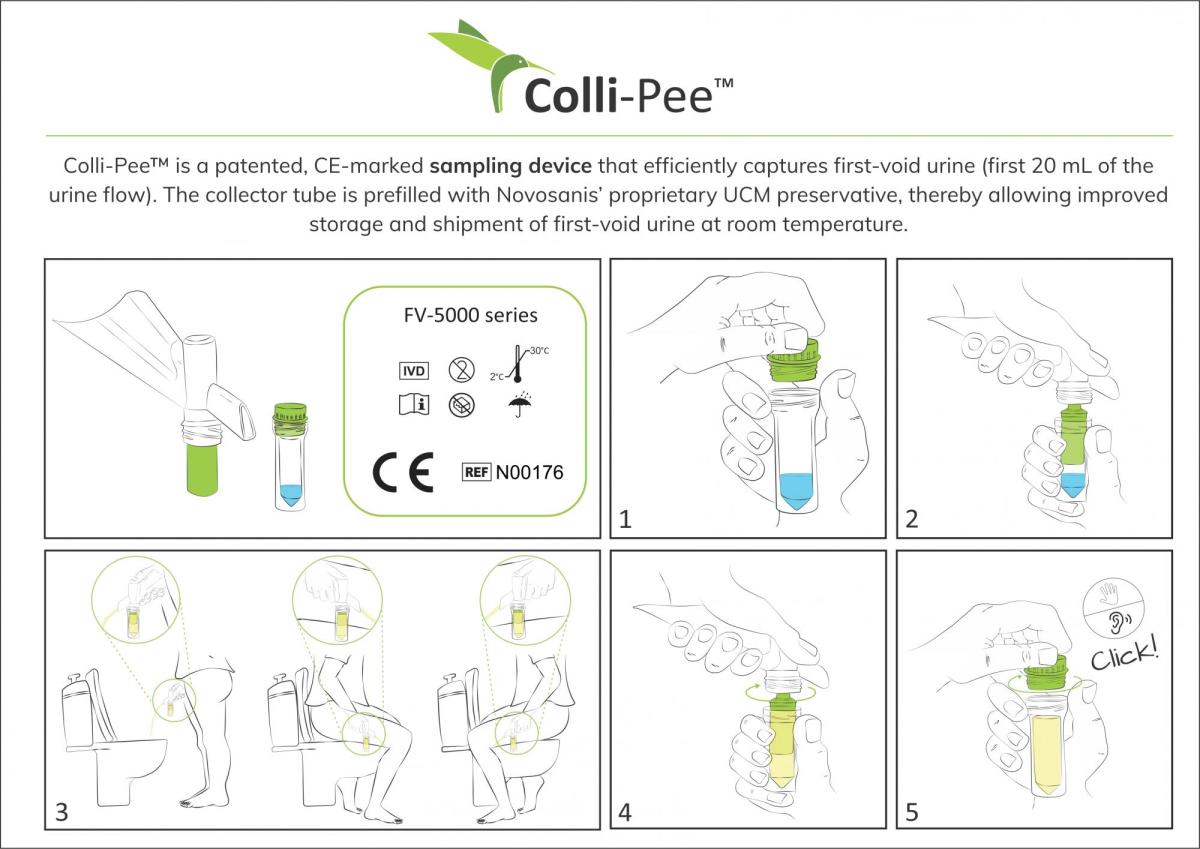 Instructions Colli-Pee containing UCM preservative